Brimbank Business Update - Brimbank Business Support and Assistance eBulletin - No. 19
This week's eBulletin (No. 19)
Business Victoria: Business Support Fund e

xpanded

Business Victoria: Face Coverings mandatory for all employees


Australian Government: JobKeeper extended until March 2021

Upcoming Webinars
Business Victoria: Business Support Fund expanded
The Victorian Government has expanded the Business Support Fund to help

Businesses within metropolitan Melbourne and Mitchell Shire that are affected by the return to Stay at Home restrictions. Businesses may be eligible for a one-off payment of $5,000.



For more information click here
Business Victoria: Face Coverings mandatory for all employees
The wearing of face coverings in the work place is now mandatory for all workplaces located within metropolitan Melbourne or Mitchell Shire. You and your staff must wear a face covering at work, and to and from work, unless you have a lawful reason for not doing so.

A face covering needs to cover both your nose and mouth.




Even with a face covering, you should keep 1.5 metres distance between you and others.
For more information click here
Australian Government: JobKeeper extended until March 2021
JobKeeper will be extended until 28 March 2021 and the temporary Coronavirus Supplement for those on JobSeeker will be extended until 31 December 2020.
Key dates
From 28 September 2020, JobKeeper will be reduced from $1,500 a fortnight to $1,200 for full-time workers and to $750 for part-time workers (less than 20 hours of work a week).

From 4 January 2021, this will be reduced to $1,000 for full-time workers and $650 for part-time workers.
Eligibility
From 28 September 2020, organisations seeking to claim JobKeeper payments will be required to reassess their eligibility with reference to their actual turnover in the June and September quarters 2020.

Organisations will need to demonstrate that they have met the relevant continuing decline in turnover test in both of those quarters to be eligible for JobKeeper from 28 September 2020 to 3 January 2021.


Organisations will need to further reassess their eligibility in January 2021 for the period from 4 January to 28 March 2021. Organisations will need to demonstrate that they have met the relevant continuing decline in turnover test in each of the previous three quarters to remain eligible for the March 2021 quarter.
For more information click here
Upcoming Webinars
VCCI: The Government's recovery plan moving forward
The Hon. Jacinta Allen MP joins VCCI to discuss how the Government's crisis cabinet has come together in managing COVID-19 and the overall priorities and recovery plans from the second wave of the virus - register here



Melbourne's North Food Group:

Blogging for business - How to create content that ranks
Content is enormous in the eyes of Google. Recommend blog topics based on keyword volume will provide the most accurate data to transform your blog into a constant stream of high-quality content - register here

ATO: Closing your small business


If you have decided to close your business this session is for you. The process can take time depending on your business size and complexity. This session explains what you need to do and introduces services that offer further assistance and guidance through the process - r
egister here

Facebook Marketing to get Leads
Facebook marketing is one of the most underrated tools in any
business owner's arsenal! It's cheap, effective, and the results
can be absolutely explosive - register here

Brimbank Business Link Website Launch
The Brimbank COVID-19 Response and Recovery Strategy includes the development of a business website under the Economic Development Response (Business Support and Assistance).
Stage 1 of the website is now live and provides business information and links about COVID-19, as well as information about Council's Business Support and Assistance; Events and Programs; and Investment and Resources.

Go to
www.brimbankbusinesslink.com.au to view the website.


Like us on the Brimbank Business Link facebook page for regular updates.

Brimbank.Localised Virtual Meetup: SEO – Google My Business Tips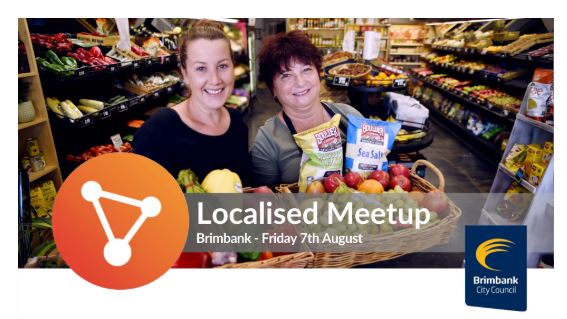 You're invited to the Localised Brimbank Meetup!

It's a great way to learn from local experts.
Brett Melville, from Digital Treasury will be guest speaker and his topic will be 'SEO – Google My Business Tips'.
Hear directly from and network with a range of businesses and organisations within Brimbank.
These business focused events are easy and effective. It's a great way to introduce yourself, your business and your expertise by getting up and promoting your business to the crowd in the form of a lightning pitch (only 20 seconds!).
Register now to add it to your calendar
You won't be disappointed, these virtual meetups are easy, fun and potentially commercially rewarding!

Register here
Business Mentoring Sessions
Business Mentoring


Council's partnership with the Small Business Mentoring Service (SBMS) and ION Group provides businesses with vouchers to access to mentoring support. Sessions are provided either online via Skype/Zoom or by telephone.
SBMS mentoring sessions are designed to provide operational support and identify resources for businesses in these extreme times. There are different mentoring options available, as well as speaking languages other than English.
ION Group provides a strategic 'whole of business' approach to their mentoring sessions and an opportunity to review your situation, planning and business strategy, and adaptation strategies for re-opening, reinventing and rebuilding your business.
For more information and a discussion about your mentoring needs, contact the Economic Development Team
ecodev@brimbank.vic.gov.au
Brimbank - Business Impact Survey
Have you responded to the Business Impact Survey?
We'd really like to hear from you to gain an understanding of how COVID-19 (coronavirus) is impacting your business. Your input will be used to inform action and advocacy for assistance, and inform government on short and long-term recovery priorities.
This survey is mainly multiple choice and will take approximately 5 minutes to complete.
Complete the Business Impact Survey here
Brimbank - Business Support and Assistance
Council's
Business Support and Assistance
website page provides information, support and resources for businesses affected by the COVID-19 (coronavirus) crisis. Find out about:
Brimbank Business e-Bulletins (previous editions)

Council's Business Support

Victorian Government Business

Victorian Government Economic Survival Package

Australian Government Business

Australian Government Stimulus Package - Business

Australian Government - JobKeeper Payment for Employers and Employees

AusIndustry Contact Centre

Australian Taxation Officer (ATO)

Victorian Chamber of Commerce Industry (VCCI)

Working for Victoria Fund - Support for Displaced Workers

Small Business Mentoring Service (SMBS)

Departm

ent of Health and Human Services (DHHS)
For more information and contact details for the Economic Development team, click
here
Brimbank - Business Development Program
Facebook Marketing to get leads - register here
Virtual Networking Night in Action - Register here
Facebook Marketing for eCommerce - Register here
How to Rank Higher in Google Maps - Register here
7 Steps to Digital Marketing Strategy - Register here
Selfcare: You can't pour from an empty cup - Register here
Using LinkedIn and your Personal Brand to win work - register here


Getting Social
Getting Social #3: Facebook Advertising Essentials - register here
Getting Social #4: Creating great content - register here
Getting Social #5: Getting Stuff Done! - register here


Small Business Bus

ONLINE: Thursday 30 July 2020 - Register here


Small Business Victoria

A series of webinars

to improve chances of business success

- for further information click
here
Upskill My Business (Business Victoria)



Develop your business skills and strenghten your business

- for further information click here
ATO: Support for Small Business Webinar

A wide range of interactive online webinar seminars presented by experienced tax officers, you can ask questions to help you apply the information to your situation - register
here
Australian Small Business Advisory Servies (ASBAS)

ASBAS is delivering FREE online workshops and Business Resilience programs for Victorian businesses:
Brimbank.Localised
Brimbank.Localised - it's more than business to business – it's business to people, people to business – it's a business community – it's letting people know where there is local expertise, local services and local opportunity.

There is no cost to sign up to Brimbank.Localised, and by signing up you will receive ongoing promotion and exposure to other Brimbank businesses, access to local supply chains and local business networks.
Brimbank.Localised is ready for Brimbank businesses to upload their profile, business information, articles and blogs - you'll just need a photo, logo, website and business details to create your profile account and get started.


Guide to getting started
Brimbank.Localised Getting Started guide (English)
Brimbank.Localised Getting Started guide (Vietnamese)

Find out more about Brimbank.Localised and upload your business profile here
LINK Magazine
A special edition of LINK has been produced which focuses on COVID-19 business support and assistance from Council and Government. There is also information about Brimbank.Localised, the Brimbank Think. Shop. Buy Local alpaca map and the 2020 Business Development Program.



Download a copy of LINK here
or go to www.brimbank.vic.gov.au/business-and-tourism

Brimbank JobLink
Are you a local business looking for new staff and want to employ local?
There's no cost to join the Joblink community or to post your employment opportunities. You'll also receive promotion for your business on the JobLink Facebook Page.
Check out Brimbank Joblink for more information and be sure to LIKE us on Facebook.
Copyright © Brimbank City Council, All rights reserved.
Our mailing address is:
PO Box 70, Sunshine 3020


For further information about this newsletter please contact the Economic Development Unit on 9249 4000 or email ecodev@brimbank.vic.gov.au
This email was sent by Brimbank City Council and is intended for of .
To review the newsletters you subscribed to, or unsubscribe from all email sent via this service please click here.